3 McAlpine Street | Domus Condominiums
Property Tours
July 12, 2019
Allow me to walk you through a property tour of 3 McAlpine Street in Domus Condominiums. This is one of the most thoughtfully designed and curated spaces in Yorkville I have every listed throughout my entire career.
Last night as I prepared for this listing I thought how can I best describe it, what word can I use?
If I was buying a fine suit I might use BESPOKE, if I was considering a fine car I might use ENGINEERED or STATE OF THE ART, but when it comes to this property the only word that comes to mind is CURATED.
Eleven months ago I was first approached by the seller who is the original owner and as you will see has spent years attending to each and every detail. In fact, just last week we worked side by side to complete some of the final touches.
A residence for the most discerning buyer, this is a designers dream. Does that speak of who you are? Would you like to call it your home?
As a ground floor unit, you will enjoy 9 foot ceilings and an expanse of more than 100 running feet of floor to ceiling windows backing onto a half acre garden. Something that's unheard of in a downtown Yorkville property.
HOME OFFICE and FINISHES OVERVIEW
The Home Office is testimonial to the exceptional quality found throughout virtually every room. A Home Office is usually the nook in a Master's Bedroom or a corner in a Den, but here it is a room onto itself.
If you look over my shoulder and through the stainless steel sheer drapes, yes I said stainless steel you will get a sneak peak of the half acre green space that is the backdrop to this home. Encompassing over 2,000 square feet this single floor residence feels more like a Rosedale or Forest Hill family home versus a luxury condo.
All materials used throughout this property are unrivalled from carrera marble, to honed limestone, solid Brazilian hardwood floors; the list is endless. As we walk through this home I will highlight many of the unique features so I would suggest you get a pen and paper to make notes. Are you ready?
As we get started, I will tell you a little bit about this room which by today's standards would be a second bedroom in most condos. The cantilevered desk is in solid wenge with matching book shelves and suspended storage cabinets. All these tie into the custom millwork of the panelled wenge ceiling above with indirect lighting and yes this room features the same spectacular Brazilian hardwood which runs through most of this home. Oh did I say all of the hardwood is run on a 45 degree angle? This would be considered cost prohibitive by many builders and home owners, but every attention to detail has been considered. All of the baseboards and doorjambs were custom made to complement the solid wenge passage and privacy doors throughout. The Italian hardware is by Columbo representing one of their most contemporary lines which is paired with a custom matching vertical escutcheon plate, all in satin stainless steel; classic and timeless. One last detail is this and every other room are the linear heating and air conditioning supplies which are only seen in the finest residential and commercial properties throughout Toronto.
As I exit the Home Office to the right is a 30 foot gallery corridor leading to the Living Room, but we will turn left to enter the spacious Master's Bedroom with a walk through his and hers closet framed in aluminum and clad with acid etched mirror inserts. From there we will enter the Master's Ensuite Bathroom.
MASTER'S BEDROOM and ENSUITE
Here we are in the Master's Bedroom where we see there is a cozy seating area; whether you're enjoying a morning coffee or reading your favorite book before you retire for the evening, it really has everything someone would want in a Master Bedroom. The window treatment has the same aesthetic of the stainless steel sheer drapes carried over from the Home Office.
As we walk through the closet corridor you will see the simplicity and elegance of design. Fully modular on the interior the closets can be reconfigured to your specific needs; an extra shelf or one less, etc.
Concealed behind a matching pocket door we will find the Master's Ensuite configured with many of your desired features; a 6 foot soaker tub and a spacious shower for two should you be so inclined. The cabinetry is also done in wenge a feature wood that appears throughout much of this residence.
BEDROOM TWO and BATHROOM TWO
As we exit the Master's Bedroom we will walk down the gallery corridor to Bedroom Two. This corridor will allow you to hang some of your favorite art work.
Here in Bedroom Two you will notice the same design execution from the custom cabinetry, to the plaster relief walls and ceiling all done by Moss and Lam one the most sought after firms in exclusive interior finishes. The look is completed by a plush matching pure linen corduroy carpet from London England. While we are here let's have a peak inside one of the closets.
As we walk across the hall we enter the Second Bathroom. Cozy and outfitted with some very unique details. The entire ceiling is done in custom fitted wood panels. The walls at a quick glance look like a subtle high end wall covering but upon closer inspection you will realize it is actually a hand painted strie also by Moss and Lam. You will see Moss and Lam's custom finishes throughout much of this residence. All the fixtures are in brushed Edwardian nickel and accented with Waterworks accessories. The tub and shower combination is clad in wooden paneling that matches exactly the wooden ceiling detail. The tub decking is a single slab of carrera marble; first class and in keeping with the details of Bedroom Two.
As we walk towards the Living Room look above and you will notice there is a floating ceiling of staggered panels. These panels are accented by indirect lighting that cascades down over the artwork displayed throughout.
LIVING ROOM and DINING ROOM
Here we are in the Living Room. Directly across you will notice an entire wall clad in book matched wenge but not so quick, it actually conceals over 250 cubic feet of storage. Yes 250 cubic feet something anyone would consider a home owner's dream. I told you this residence just keeps on giving one surprise after another. Let me show you the cabinet interior. Hung on French cleats the shelving system is ingenious as there are more than 30 different shelf positions available to accommodate your treasured collectibles of every shape and description
DINING ROOM
To my left is the Dining Room with another floating drop ceiling the shadow of which matches exactly the custom loomed Tibetan carpet, one of three throughout this suite. No doubt you will notice the ceiling cut out to frame an original and timeless Holly Hunt ALTAR ceiling fixture.
LIVING ROOM
Let's take a seat and enjoy the aesthetic and details of the Living Room. Configured as a conversation pit the living room will easily accommodate the guests of your upcoming dinner party. The entire east facing wall is a cascade of glass overlooking the garden. Directly across is a custom fitted wenge shelving system to display your treasures from around the world. Designed as a center hall plan rooms run to right and the left of the Living Room.
BEDROOM THREE and BATHROOM THREE
Let's continue to Bedroom Three as we enter it is important to take note of the pure cotton hand looped carpet which plays of the color pallet of solid walnut cabinetry and subtle stone walls also done by Moss and Lam. The built in desk affords any owner to switch up this room to become the Home Office and the Home Office to become your in suite private Gym. Just let your imagination run wild. As if you didn't get enough of the garden view there is another 25 feet of floor to ceiling windows. The ceiling is a cascade of solid walnut as is all of the cabinetry. Given a closer look you will notice the walnut grain inlays alternate.
BATHROOM THREE
As we jump across the hall we enter Bathroom Three which has the same stone walls featured in Bedroom Three. Looking up you will see another floating ceiling panel outfitted with indirect lighting cascading down all walls.
MUD and LAUNDRY ROOM
Walking back towards the foyer I'm going to take you into a room very few units can't boast of having; it's your very own combination Mud and Laundry Room. Outfitted with custom made shaker cabinetry offering more storage than you could imagine this really is another room onto itself. A built in laundry hamper etc. Whether you are cleaning your Hunter boots after a Saturday morning at the St. Lawrence market or folding your bed sheets you will find plenty of room.
DEN
As we pass through the foyer there is a three panel wenge ceiling that welcomes you to this home. As we enter the Kitchen we will turn left to enter the Den. Directly across you will notice the acid etched 4' x 8' glass wall. When the gallery corridor is lit it illuminates the entire panel. Like every other room there are some spectacular details including a collection of original Ingo Mauer lighting fixtures.
KITCHEN
In the Kitchen you will notice no shortage of space as it is outfitted with a custom banquette in matching millwork. With a natural gas supply if there is a chef in the family they will feel completely at home. Just
My name is Christopher Bibby of Remax Hallmark Bibby Group Realty, this is my latest listing at 3 McAlpine Street in Domus Condominiums.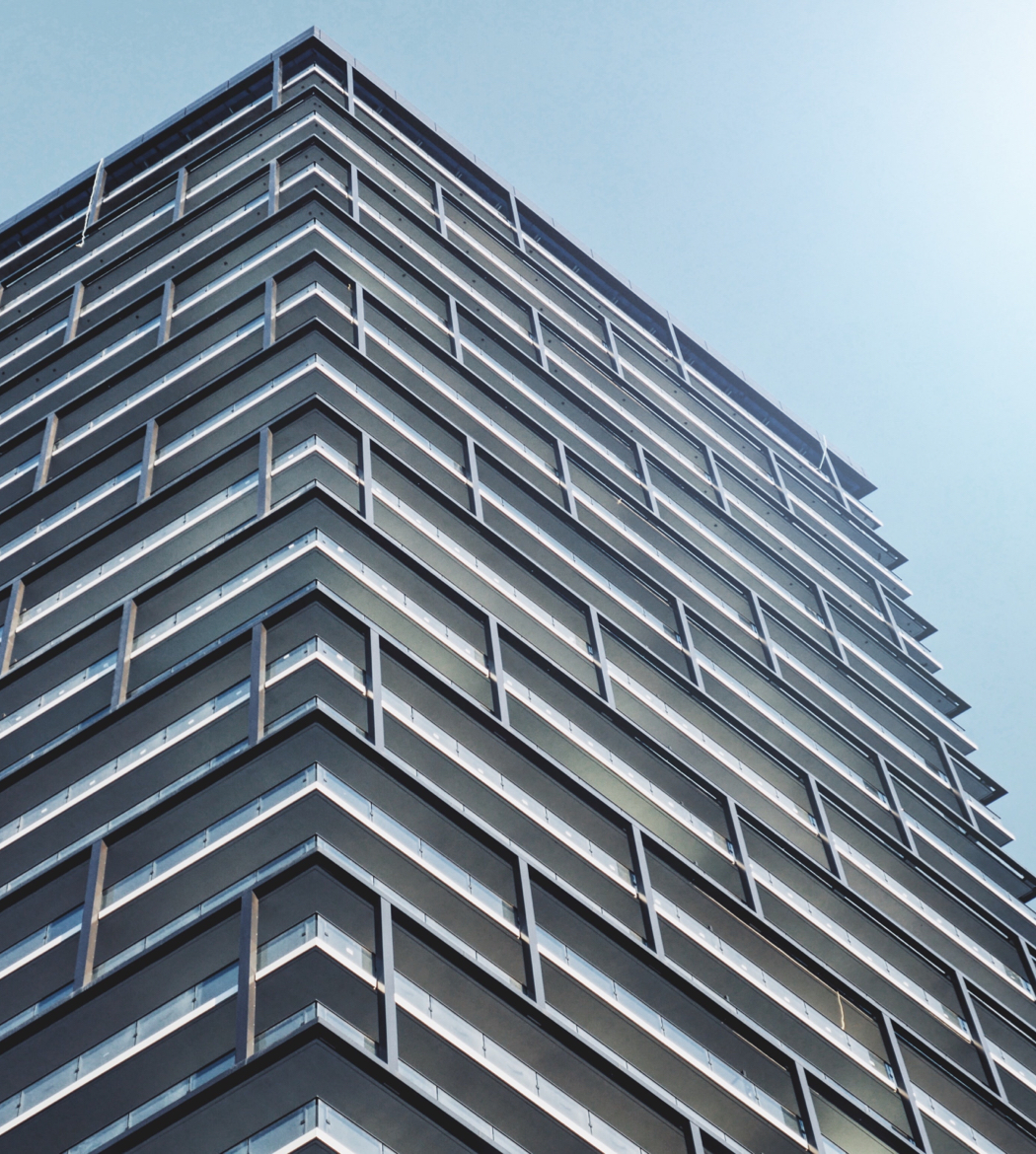 Need help creating
a virtual tour of
your property?